Greenleaf Media has gone, well, green with a new solar array! 
It's easy to understand why we wanted to adopt solar panels. Solar power reduces our carbon footprint, so we don't have to draw power from fossil fuels. Instead, we can draw power straight from our roof, which saves both our planet and our energy costs. Our new solar panels provide power every day of the year, even when it's cloudy.
Of course, we wouldn't have gotten the panels without assistance from organizations in our community. Thank you to MadiSun and Midwest Solar Power for helping us do our part against climate change. 
How We Went Solar
Before we went solar, we researched organizations that could provide information or resources to companies like ours. One of our earliest point of contacts was MadiSun.
MadiSun is the City of Madison's initiative to expand solar energy into homes, businesses, and nonprofit organizations. They provide resources and grants to people and organizations looking to get started with solar power. With their help, we got connected with Midwest Solar Power.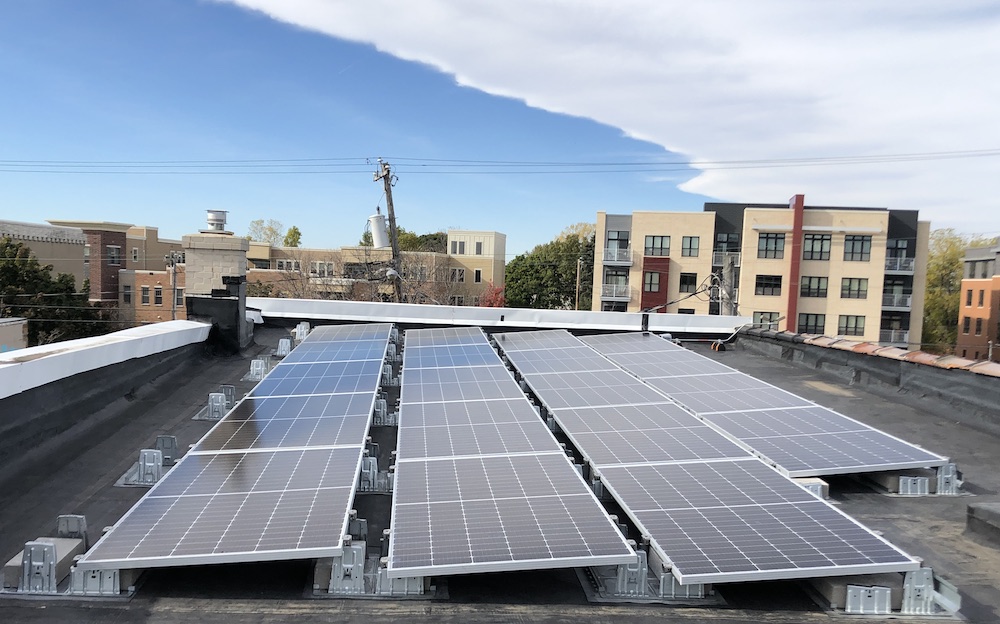 Midwest Solar Power (MSP) is a Madison-based solar panel installation company with a passion for solar energy and a team of experts on constructions, project management, and customer service. In addition to installing our panels, they provided us with resources and educational materials to ensure a smooth transition to solar power. The installation took two days, and the team was friendly and efficient.
About 42% of the array's installation cost was covered by grants and financial incentives. In addition to a 26% federal tax credit, Greenleaf Media received a 10% incentive from MadiSun and $1,533 in cashback from Focus on Energy. Focus on Energy's mission is to empower the people and businesses of Wisconsin to make smart energy decisions. We are grateful for these organizations' contribution to help make Greenleaf Media greener.
Our Solar Array
Greenleaf Media now has 19 Phono Solar 450 Watt modules and 2 SolarEdge Inverters. The calculated annual production of our array is 10,200 kWh (kilowatt hours) – enough to offset 90-100% of Greenleaf's annual electrical usage. With a winter utility bill that costs hundreds of dollars per month, that is a substantial savings! We monitor the solar panel output with the SolarEdge app, which provides real time updates on our solar production, the performance of our array and energy usage.
Our solar panels don't require any maintenance. We don't even have to scrape off the snow in the wintertime! The panels are storm-resistant, durable in the unpredictable Wisconsin weather, and covered under a 25-year warranty.
*
Greenleaf Media is proud to do our part against climate change by drawing power from renewable resources. We are grateful to the Madison community for helping us to make the world a greener place.