When you build a great website, you want people to see it. You'll want to be easily found right where people are looking: the top results in search engines.
Proper web development can do a lot to improve search engine rank, but it's not always sufficient for keywords in competitive industries. In these cases, pay-per-click web marketing like Google AdWords can help organizations achieve search engine visibility goals.
As a web design and branding agency, we receive a lot of questions on organic SEO vs. paying to get the highest position in an online search. Here are a few of our FAQs on the basics of paid web marketing:
What is PPC?
PPC, or pay-per-click, is a type of online marketing where charges are only incurred when a user clicks on an ad to visit the advertised site. Advertising on search engines is the most popular form of PPC marketing.
What is SEM?
SEM, or search engine marketing, is a method of purchasing web traffic through paid search engine listings on sites like Google or Bing. Advertisers buy visibility on search engine results pages (SERPs) versus earning rank organically.
How is SEM different than SEO?
SEO, or search engine optimization, includes techniques to list websites closer to the top of search results with a goal to increase web traffic through unpaid listings. SEM refers to paid listings in search results, generally improving visibility faster than traditional SEO efforts.
What is AdWords?
With Google AdWords, advertisers bid on keywords and phrases for their ads to appear when a Google search relates to their business offering. Advertisers only pay when the viewer clicks on the ad. Google AdWords is the most popular PPC marketing platform in the US, making up approximately 82% of the paid search ad spend.
Where do AdWords ads appear?
Paid AdWords ads may appear at the top, bottom or side column of the Google results page when a search is performed for a specific keyword or phrase. Paid listings look similar to organic listings, but are differentiated by a small green "Ad" icon.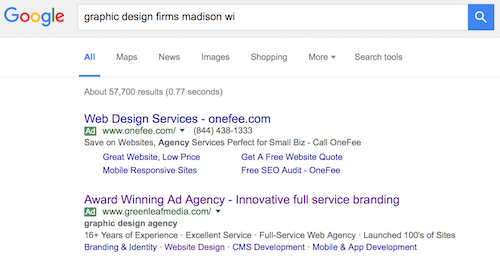 Can AdWords ads appear places other than Google?
AdWords has an option for advertising on partner websites within the Google Display Network. These websites collect revenue from Google for displaying ads within their pages. Display network ads generally have lower conversion rates, but also tend to be less expensive for advertisers seeking high visibility.
Do people actually click on paid ads?
Yes. Google users click on the ads for a variety of reasons. Users may not realize they're clicking an ad, the ad is the most relevant result a user sees, or the ad catches their attention.
How much does AdWords cost? Is AdWords expensive?
AdWords budgets are completely customizable to meet investment goals. But it's true that some campaigns can become costly if they're setup with inefficiencies or contain poor targeting. Relying on an expert to create or review your campaign is often helpful to maximize your reach per dollar.
Perhaps more important than cost, is return on investment or ROI. For example, if an AdWords budget of $1000 yields a $5,000 profit from ad conversions, it is probably a smart decision to continue investing in the campaign.
How do I know AdWords is working?
AdWords offers robust analytics to determine the success of specific keywords and ads. Elements that are successful can easily be boosted and areas that are not can be dialed down or paused. Additional keywords and ads can be incorporated on the fly.
Is AdWords a scam?
Creating a Google AdWords campaign is a sound investment for many businesses, when done correctly. But, it's essential to know tips for creating a successful AdWords campaign or where to find support before spending a penny.
What if I have questions on AdWords?
An online search can answer basic questions. Turning to a reputable consultant can also help. If working with a consultant, make sure they are Google AdWords Certified to best assure a sound investment.
If you're interested in additional information on Google AdWords and PPC advertising, read our more technical article Putting Yourself First… On Google or reach out to the Google AdWords Certified team at Greenleaf Media. We're here to help.