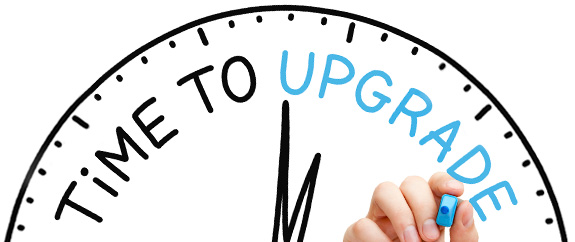 Web systems – like Wordpress, Joomla, Drupal and other CMS platforms – make managing websites easy for even novice users, but performing upgrades on your own can prove risky.
When done right, upgrades will help protect your site from security breaches and keep your site running smoothly. Upgrading without IT support can leave your site inoperable because of data loss, corruption or scripting errors, which may require costly repairs.
Get professional support for your website upgrade to save time and hassles; consult your web developer or knowledgeable IT staff before upgrading your own web system. It's better to be safe than sorry.
Why get upgrade support?
1.

A site backup is ready, just in case.
Upgrading without backing up your website is a gamble. If something goes wrong and a backup or site copy is not available, days, weeks or even months of work can be lost. Your web developer should take a snapshot of your site before upgrading to assure data integrity and that full functionality can be restored.

2.

Pros provide recommendations on timing and urgency.
CMS upgrades contain functionality enhancements, bug fixes (to avoid site crashes), security patches and new feature releases. We generally recommend combining non-essential patches into scheduled annual upgrades. Sites with more sensitive data – like e-commerce or member data – will require more timely upgrades to maintain proper security.

3.

Receive clarity on affected modules.
CMS upgrades are important and need to be done regularly, but not all CMS upgrades are urgent or necessary for every site. Some impact modules that haven't been installed or that your site doesn't reference. In these cases, the upgrade doesn't apply and completing the upgrade can be delayed until the next version is released. Your IT pro or web development team will investigate the upgrade's scope and suggest appropriate timing.

4.

Upgrade lag is less likely.
CMS upgrades generally build upon past releases. Delaying an upgrade can make the jump to the newest release more complicated – with long delays often requiring more extensive site rebuilds. Completing regular upgrades keeps web maintenance easier and less expensive in the long term.

5.

A professional compatibility check minimizes errors.
Before upgrading, your web developer should verify that your site's CMS customizations and installed web modules are compatible with the upgrade. Incompatibilities can result in script errors; in other words, your site may crash and/or pages may not display post-upgrade.


When is it time to upgrade?
Some web platforms will display an "Upgrade" button within the back-end of your web software or content management system (CMS) when updates are available. While it might be tempting to simply press the button and complete the upgrade, it's really not the best idea. Auto-updates by a system or web host are dangerous as well. Unless you understand any potential ramifications of an upgrade, a better approach is to rely on help from your web development team.
At Greenleaf Media, we recommend performing regular system upgrades at least annually. Not all upgrades are urgent and some may not even apply to your site. Time of day or day of the week are also considerations; ideally, updates to a web system should be performed when site traffic is low or when impact to business operations might be lessened.
Consult your web team about the upgrades necessary to keep your website working well. Web developers like Greenleaf will know the best practices and can apply them to your site. Our team is able to create site backups, advise on timing, inform about security risks and provide general upgrade support… but our clients always have the final say on when and how to move forward.
If you're interested in more information on CMS websites, site upgrades or would like to start a new web project, reach out to the Greenleaf team. We're here to help.