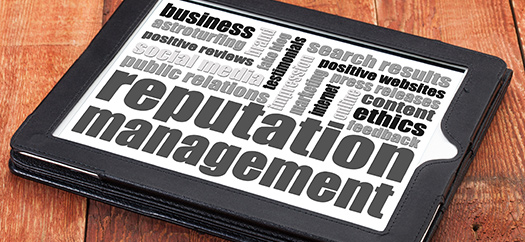 When was the last time you checked yourself out? Not in the mirror - but online.
If it's been a while since you performed an online search of your own business, it might be time to take another look.
Online Reputation Management (ORM)
By doing a search on your organization, you may uncover unflattering or flawed information. It can come in the form of negative reviews, old addresses for your business, etc. Any attempt at improving this type of information is called Online Reputation Management (ORM).
ORM has many different connotations, but the most common definition is influencing your searchable public profile on the Internet, primarily toward what appears in the top search results. In other words, clean up publicly available information and push any potentially negative content lower in search results.
ORM Strategies
Managing your online reputation can be time-consuming, but it is definitely worthwhile. Patience and persistence will be handy tools to keep in your back pocket as you take on some of these ORM strategies:
1.

New web content. Regularly publish original content on your site, such as white papers, blog entries and keyword-rich information. Either the new content will outperform any negative results in a search or having more positive content listed on search engines will make any negative content more difficult to find.

2.

Update tags and descriptions. Add tags, keywords and good meta descriptions to new and existing web pages on your website. This will make your site more appealing to web crawlers and will help push down negative content.

3.

Create new rankings. Add new listings on highly ranked, high traffic sources to put positive business listings at the top of the search results. Claim business pages on sites like LinkedIn, Facebook, Yelp, Wikipedia, etc.

4.

Third party sites. Submit press releases or other news to authoritative websites or those that rank highly in search engines. Any reputable mentions online, even if from other sites, will speak positively for your business and promote your brand's presence.

5.

Negative reviews. Negative reviews should not be deleted. Only the person writing the review should retract it. However, you can respond to any complaint with a professional and rational comment. Either explain your point of view (if the reviewer is in the wrong) or apologize to the reviewer in a calm and authentic manner. If you are able to take steps to fix a problem in your business or offer a solution, say so. When people read your response to the review, you'll build their trust. However, if the reviewer is completely irrational, you can also try contacting the hosting website for assistance with hiding the review.

6.

Incorrect information. Ask online data source sites to update incorrect information. These websites act similarly to yellow pages listings and may list inaccuracies about your business. Fixing errors and making the listings match what's on your website will help improve search engine rankings. You can use a website like Yext to see a list of data sources, then contact each website one-by-one to update the listings without having to pay the web service.

7.

Generating online feedback. If your business is product-based, attempt to generate positive reviews for your company by offering free products to prominent reviewers in exchange for online feedback. This tactic can help boost positive associations for your business and help minimize any negative reviews your company may have.
Do It Right, Do It Often
While there is no set of hard and fast rules for ORM, there are a few unethical strategies out there that our team of web experts does not endorse. For example, creating fake blog content or submitting fake reviews is not a good practice.
But, keeping on top of what's being said about your business is essential to search engine optimization (SEO) and ORM should be done on a regular basis. If you run into a jam with reputation management or would like support on your ORM project, reach out to the Greenleaf web team. We're here to help.